June 2, 2022
Forecast
Model Portfolio Update
Bitcoin Supply Makeup
Referring Partners
---
1. Forecast
We continue to foresee Bitcoin trading between $25-$35k through the end of July. There are a few macro events that we are keeping an eye on until then. The Fed has two more meetings scheduled in mid June and late July. These are likely to result in 50bps hikes each. We will also have two more CPI reports that we feel will continue to show elevated inflation. Finally, the 2 remaining Bitcoin spot ETFs are due for denial or approval by the SEC. The decision is due on July 6th, and while we don't feel an affirmative decision is in the cards, a surprise approval could benefit Digital Assets and in the short term reduce correlation to the Nasdaq. If we were to bet on who gets the green light for a spot BTC ETF, our money is on Grayscale's Bitcoin Trust (GBTC). It already holds units of BTC (see just how many below in the chart) so its conversion would be more streamlined compared to another provider who would have to buy a lot of BTC on the open market to comply. Ultimately we think there is a low probability any of these get approved before Biden's report on cryptocurrencies comes out, which may not be until 2023. Once we get into August we will forecast through the rest of the year. Right now it may seem like dopamine is decreasing, but we aren't worried. The current cycle needs to play out longer and provide more clarity until it can build up buyers again.
2. Model Portfolio Update
The Model Portfolio is evolving from 80/20 BTC/ETH to 70/10/20 BTC/ETH/USD. The goal is to add units to Bitcoin by capturing Ether's outperformance. In 2020 we added ETH at an ETH/BTC ratio of .025 and with the ratio currently at .06 we are able to do that. Ethereum has completed most of the stages to get to Proof of Stake, DeFi has grown as we anticipated, and we got a bonus with the explosion of NFTs. For now the USD will be swapped into GUSD and moved to EARN until we find the right storyline and investment case for redeployment. We have no definite time table for this reallocation at the moment. The 80/20 BTC/ETH model portfolio had a total return of 303.15%. You can see the details below.

Model Portfolio Developments:
From June'20 of 80/20 BTC/ETH
To now 70/10/20 BTC/ETH/USD
Ethereum
A majority of the phases to switch to Proof of Stake have been integrated.

Completed: Beacon Chain, Berlin Upgrade, London Upgrade, Altair Upgrade
Remaining: The Merge

DeFi - Decentralized Finance, has grown exponentially
NFTs - Non-Fungible Tokens, has grown exponentially

2020 - $80M in sales
2022 through May - $37B in sales
Since June of 2020 the ETH position in the Model Portfolio grew to 37.86% shifting BTC to 62.14%. Reducing ETH to 10% allowed us to stack units in Bitcoin and bring its weighting up to 70%, while freeing up 20% in cash.
3. Bitcoin Supply Distribution
The chart and table below are for illustrative purposes only. We thought it would be useful to show a breakdown of Bitcoin's supply distribution. An interesting thing to note is how much of Bitcoin's supply is most likely lost. It's a somewhat loose term that includes addresses that haven't had activity in more than 10 years but still underscores the scarcity of this digital asset given the hard cap of 21,000,000 BTC.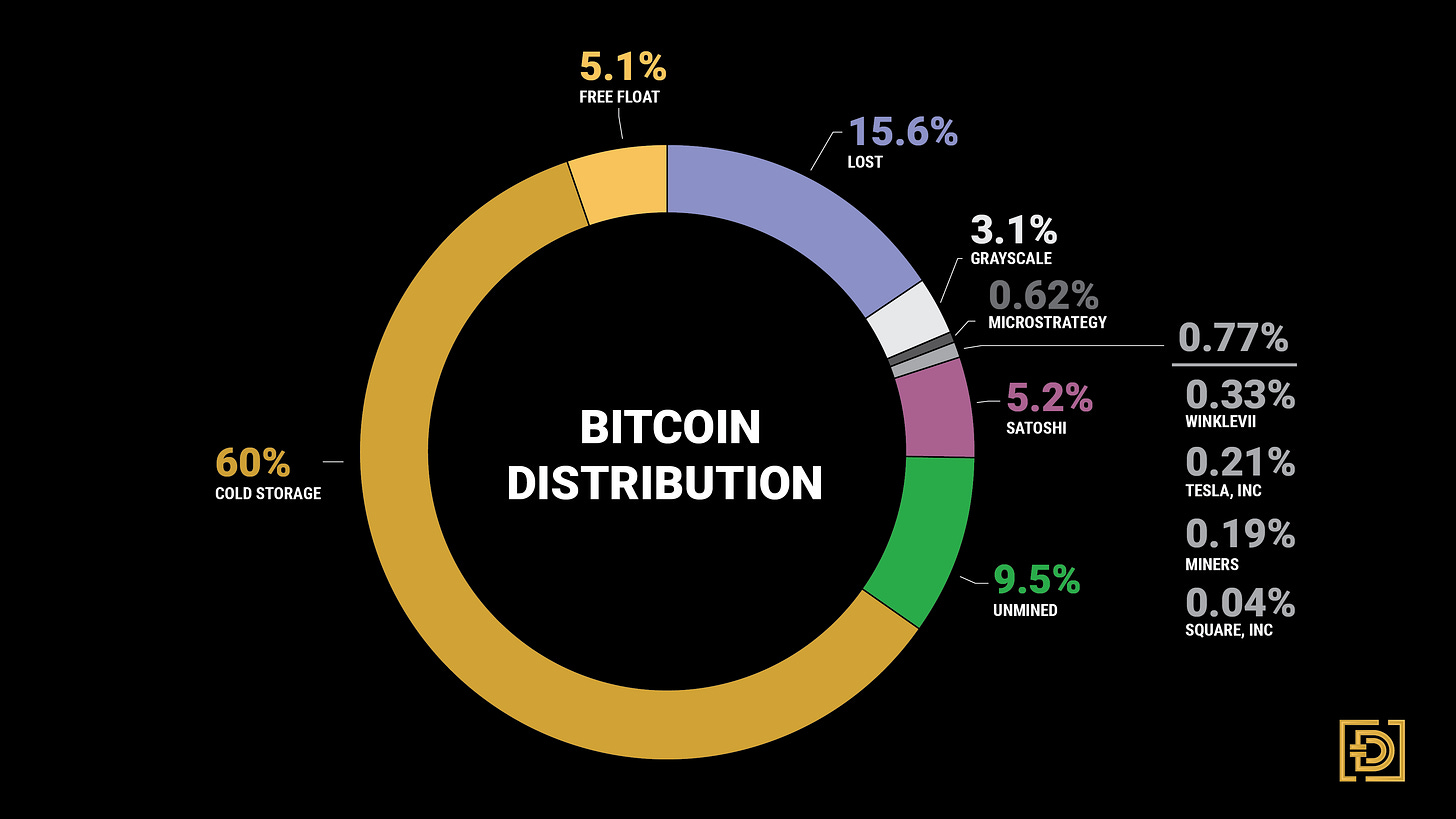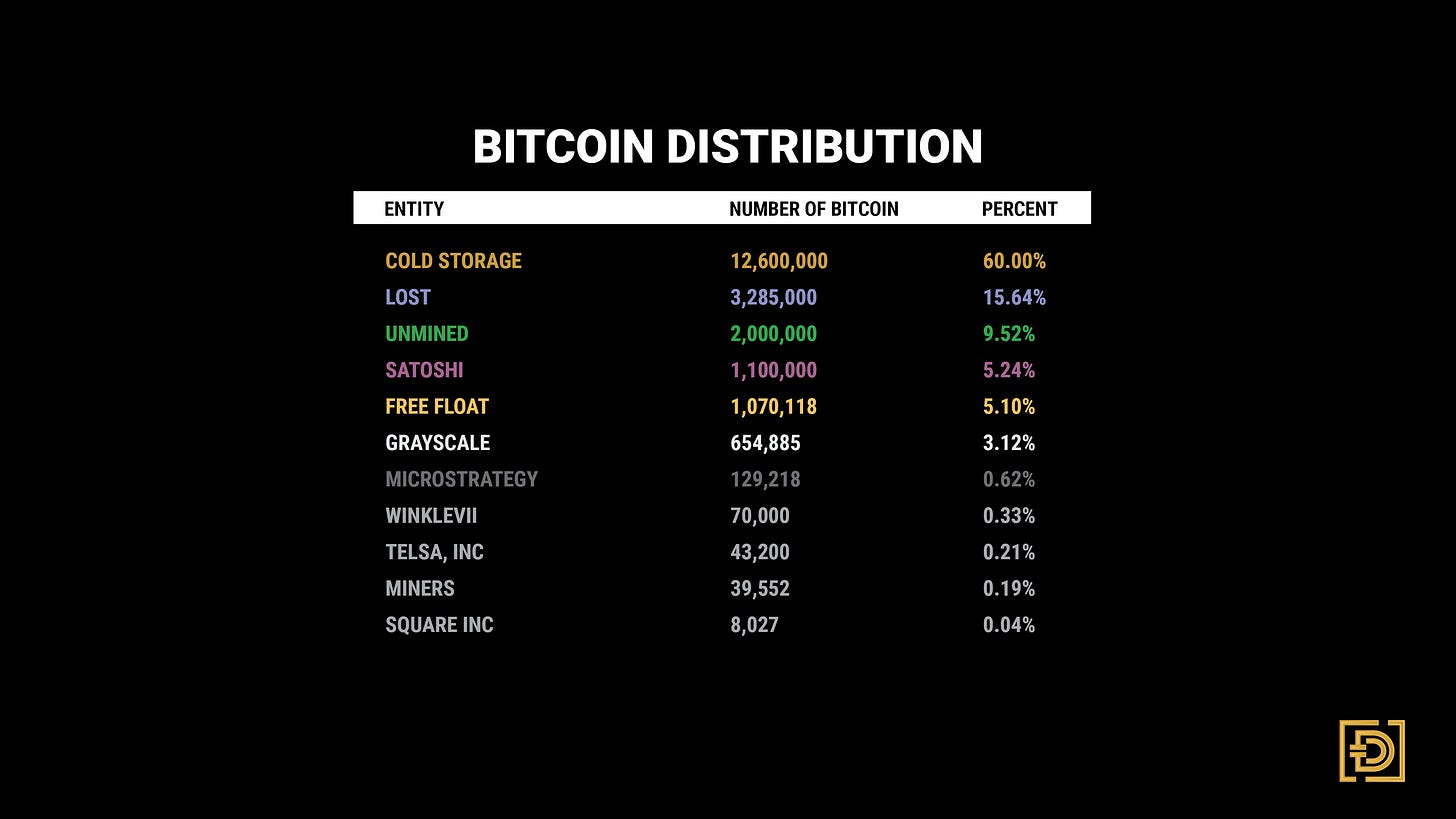 4. Referring Partners
DAIM welcomes Natalie Brunell, podcast host, educator and media commentator as our newest referring partner. Check her out in the following links.
Other referring partners to check out:
Wendy O - Technical analysis, news, and niche crypto projects. Check her out in the following links.
Robert Breedlove - For those who want to explore Bitcoin's deeper purpose. Check him out in the following links.