August 9, 2022
1) Forecast
2) Big Weeks!
3) Smaller Weeks
4) HODL Now, Retire Later
---
1.Forecast
While we anticipate another breakthrough of 20k BTC we don't think that anything below $15k is a distinct possibility now. A range of 20k-30k is likely as we await two more inflation prints before the next Fed meeting in September. If we do dip below $20k we think there is too much institutional interest to stay at those levels for long. BlackRock was the latest big player to enter the space, teaming up with Coinbase to provide access to institutional investors. With adoption growing and Bitcoin trading at a decent discount already, a drawdown of more than 40% is seemingly unlikely.
---
2.Big Weeks!
As we mentioned in this blog post back in March, Bitcoin has the ability to generate positive, excess returns with a frequency that is unrivaled by traditional asset classes. We specifically looked for weeks where Bitcoin appreciated more than 15%. Going back to 2016, BTC averaged at least 6 such weeks. When we first wrote about the phenomenon in March there had been 2 big weeks and we expected 4 more throughout the year. Things have been rocky since but we did add another notch to that 15% belt back in July. That puts the total number of big weeks this year at 3 which means that we could reasonably expect 3 more by 2023. The fact that we could be primed for multiple big weeks in a relatively short time period bodes well for Digital Asset investors. If the bottom is in and it's only up from here then compounding with larger returns would make Bitcoin and other cryptocurrencies a more attractive investment vs traditional options.
Crypto has become more correlated with the broader stock market and the direction of inflation, interest rates, GDP, unemployment, etc will have an influence on how all markets react. Nobody knows for certain what the future holds but as these big weeks have shown in the past there is no better risk/reward asset than Bitcoin.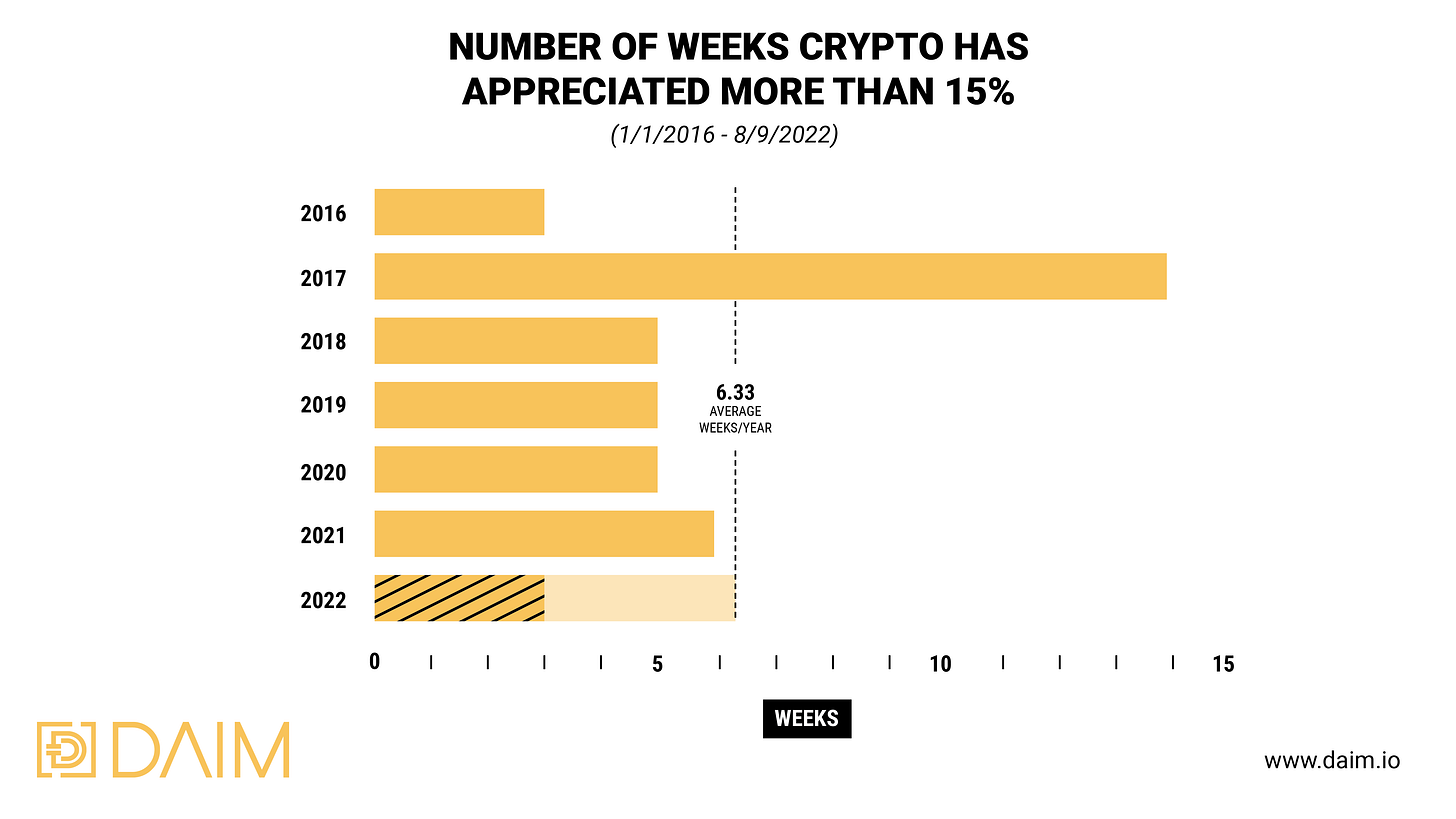 ---
3.Smaller Weeks
So what about the SP 500, did it too have a 15% gain in week? Despite the recent rally, the largest one week gain this year was about 5.5%. In fact, as we pointed out in March, the index had only produced one 15% week going back to 2016 and that is still the case. Its lower volatility has made for a smaller drawdown compared to Bitcoin but to gain that relative safety you will give up future upside.
Again, if you think the bottom is in, will holding only a basket of stocks be preferable going forward? We certainly don't think so. Traditional equities have shown themselves to be inferior wealth compounders during bull markets compared to digital assets. Any investor looking for a truly diversified portfolio would be well suited to rotate a portion of their holdings into Bitcoin at these levels. History has shown that the upside after large drawdowns far outweighs the consequence of further losses. Expecting traditional assets to do all the heavy lifting for your portfolio from here is wishful thinking. If you don't have any exposure to crypto, now is the time to implement an allocation plan. If you reduced exposure over the past year now is the time to review reweighting your portfolio. We can help you with both of these.
---
4.HODL Now, Retire Later
Employers now have the ability to offer 401K plans with direct exposure to Bitcoin. For over a year we have acted as a 3(38) fiduciary for plans with spot BTC exposure. The strategies were built using low-cost index funds from Vanguard and pure Bitcoin, bought on exchange through Gemini. The investment options we oversee are based on a traditional 60/40 (stock/bond) portfolio with an added exposure of Bitcoin (up to 10% of the overall allocation). While some people may feel that holding Bitcoin in a retirement plan is too risky, we see it much differently. Adding a reasonable allocation (≤10%) of Bitcoin to any well diversified portfolio has shown improved portfolio performance, on an absolute and risk-adjusted basis, over a long time horizon. Given where we are in the Bitcoin cycle, forward returns for the next 5 years will help provide an immense benefit to the value of a plan participant's portfolio. DAIM feels that the longer your time horizon is, the more beneficial it will be to have exposure to Bitcoin. The product we have created is especially enticing for employers with a relatively young workforce as there is a distinct possibility the adoption of Bitcoin increases exponentially over the next 20-30 years.
DAIM has gone through multiple regulatory audits and feel that we are equipped to handle the murky regulatory environment ERISA plans are currently facing. We've been in business for 4 years now and have been audited each year. Every time regulators have affirmed what we are doing is suitable for the participants we serve. While the future may seem uncertain, getting exposure to Bitcoin now will undoubtedly set up employees to retire comfortably when the time comes. Employers who want to switch plans and get strategies that incorporate mutual funds and Bitcoin by 2023 should act soon. If you want to have one of our 401k plans please contact us soon so we can have you ready for Jan 1 2023. Interested parties are encouraged to call 949.298.7582 or email [email protected] for more info. For now you can see the details of our flagship Bitcoin 10 offering are below.