October 6, 2022
1) Forecast
2) Turning Point
3) Business Services
---
Forecast - CPI data is driving the economy so each report is extremely influential on the Federal Reserve. The next report comes out on Oct 13 and traders will likely adjust instantly trying to predict the Fed's next rate move. The Fed's next meeting is November 1-2 leaving a lot of time to speculate between the CPI report and the Fed's decision. 

At least through the next CPI report, we're sticking with our 20-30k range for Bitcoin with a possible visit down to $15k. This is a great time to accumulate Bitcoin. These prices may not last long and there may come a time where the story points to adjust bids up.

Turning Point? - Lately it seems like crypto investors have become macro economists, predicting and reading the tea leaves of every CPI print that gets released. CPI data continues to show MoM and YoY increases in inflation and people are now obsessing about what will happen when it turns. We think too much emphasis is being put on CPI data relating to what the Bitcoin is going to do. While it is true that correlation between Bitcoin and traditional risk assets has increased there has been no short term patterns you could discern if you compared these monthly readings to monthly Bitcoin return. Take a look at the two graphs below.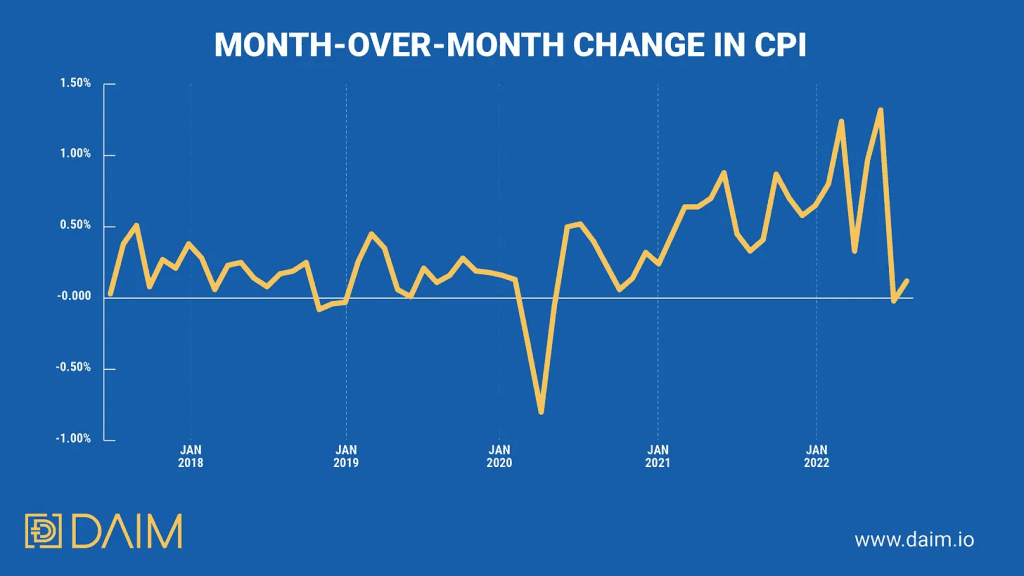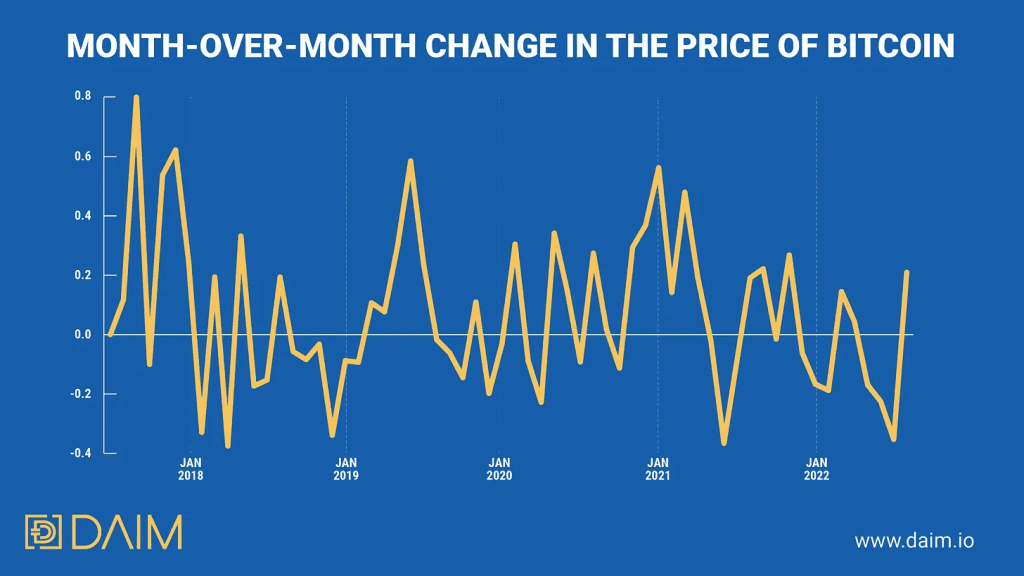 As you can see it's hard to establish any kind of short-term relationship between the two. So if we do get successive months of deflation don't expect a Bitcoin rally. Long-term we do expect higher structural inflation and believe Bitcoin will show its merits as a super-charged inflation hedge. For now though it is impossible to predict how a volatile asset like Bitcoin will react to a single government statistic. The HODL mentality might be taking a hit lately but now is the best time to get long. Since July 2011 Bitcoin has averaged an 88% return a year. Let's assume that we get half of that annual return for the next decade. An annual appreciation of 40% per year for the next 10 years puts us around $575K BTC and a total market cap of $11 trillion. $11 trillion is the market cap of gold which people seem to think is a likely milestone for Bitcoin.
So do your best to block out the noise. Short term data might be tempting to trade but right now a long term approach is still your best bet. If you can be diligent and patient you will be rewarded down the line.

DAIM Business Services

Diversified 401ks - A modern retirement plan is your best chance to build wealth for retirement. DAIM has created a 401k plan that allows for up to 10% of the employees' investment to be in pure Bitcoin. Based on a 60/40 stock/bond traditional allocation, we build truly diversified retirement portfolios composed of low-cost, indexed mutual funds and 0% to 10% Bitcoin.

Blended Asset Management - DAIM's Equity & Crypto Portfolio is for qualified individuals seeking to combine a managed equity portfolio with pure cryptocurrencies. By participating in the price appreciation power of crypto, there is no need to over complicate an investment strategy.

Individual Crypto - DAIM helps clients buy Bitcoin and cryptocurrencies directly in their brokerage and tax-advantaged retirement accounts such as Traditional and Roth IRAs. Since 2018 DAIM has delivered best in class performance through its model portfolio.

Subadvisory - As the first licensed Investment Advisor and Asset Manager for Digital Assets, DAIM is uniquely positioned to work with Registered Investment Advisors and Financial Planners to provide the needed expertise and access to crypto assets.

Investing directly in Digital Assets offers absolute, transparent, and actual ownership.

DAIM's research and analysis finds that not only should a 5% allocation of Bitcoin and select Digital Assets be considered, but that zero exposure to Bitcoin will leave Wealth Managers and Financial Planners at risk of managing underperforming client portfolios.